– I wanted the keyboard to go to people like my friend with special needs, so that they could comfortably work at the computer with a device that wouldn't cost them a fortune – says 15-year-old Philippe Biko from Yaroslav.
It seems modest and ordinary, because this is Philip, who goes to first grade at Zespó Szkó Technicznych i Ogólnokształcące im. Stefan Banach in Yaroslaw. – I once said that he is a genius, but he does not like it very much – admits Artur Tutka, teacher of vocational subjects and project supervisor of Philip. However, it is difficult for a man to avoid phrases like "beautiful mind" when talking about Philip. And you can't be surprised.
A button without pressing – it can change your life
Phillip, watching a friend with multiple sclerosis who uses a computer keyboard with a stick attached to his hat and presses keys, figured out how to do it without contact.
This method was imperfect: the stick slipped, it was not always easy to hit the key, and sometimes the cap fell off the head. In fact, Philip created three types of keyboards, but that probably isn't his last word. The most important thing is one that can facilitate and change the lives of people with physical disabilities all over the world. Its name is ZHELTA K6. It has 6 magnetically activated buttons, the functions of which can be customized according to the needs of a specific user. The keyboard has a built-in OLED display that allows you to display the programs currently in use or the main functions.
Photo by Bogusław Piękoś
Slide the tip of the cover-mounted magnetic indicator to the switch. Then the switch and its function are activated. What happens next depends on what is configured in the keyboard software itself. For example, a key function is called, that is, the entry of a single letter or a combination, it can be a letter, that is, an alphanumeric character, or an abbreviation of a key, that is, several functions assigned at the same time – explains Filip Piękoś .
So the magnet on the wand makes the switch react contactless – you don't need to press it. This is a great convenience and a completely different quality of communication with the environment for people who are paralyzed or paralyzed.
– Nobody has come yet. Thanks to a special built-in device, there is no need to press a key – says Artur Tutka. – Changing the overlay may cause the keyboard to work in different languages. Therefore, it can be useful not only in Poland, but also abroad. You can also issue macro commands.
– The pointer does not have to be attached to the cap, you can hold it, for example, in your hand. If a person can only move his hand a little, he can easily use the keyboard – says Philip.
Testing people with disabilities
The young designer admits that he is still working on its improvement, incl. It even serves the blind as well. At the moment, the keyboard is subjected to many tests by people with disabilities themselves, for example physically or intellectually.
– We've already learned a lot, including. Thanks to Agata who has agreed to be the ambassador for this undertaking. She has spinal cord atrophy and her visit opened our eyes to many new functions that could improve the keyboard – says Artur Tutka.
It is, for example, the curved shape of the keyboard to make movements smoother, or the cursor that is attached not only to the cap, but is also held in the hand and extends like a telescope. The built-in speaker will report which keyboard layer has been changed and will allow, for example, to call up Twitter or Facebook. The keyboard will also be able to connect to bluetooth, thanks to which it will allow the e-book to be played without contact.
Philip's work was not particularly difficult.
– I actually started with a simple mechanical keyboard design, and it was a process to improve the design further. I wouldn't say it was difficult, but it required me to learn, for example, 3D printing and other technologies – says Philip.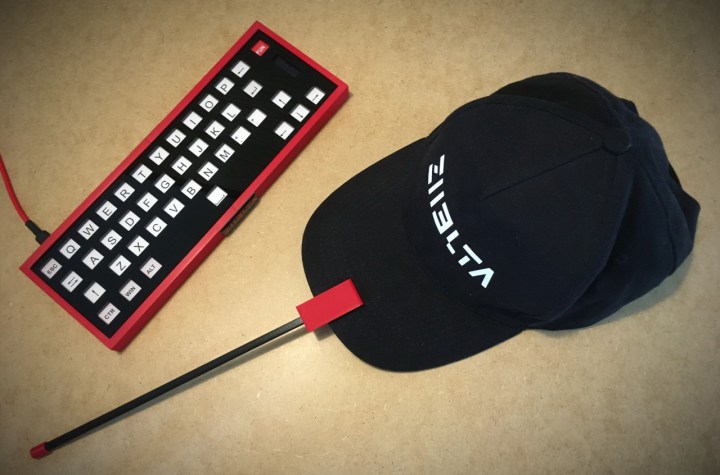 Photo by Bogusław Piękoś
family traditions
– Grandpa Philippa and I were interested in electronics. Philip used to connect cables when he was two – says Bogusław Piękoś, Philip's father.
In his grandfather's workshop, Philip saw the contract and came up with what he could do in the process of creating a keyboard. In the 50s of the last century, a Dane tried to build a similar, but to no avail.
In Jarosław it was possible, including thanks to the right conditions at the school, any well-equipped workshop, where Filip could 3D print and customize his project. – When I showed him the workshop, I saw a smile in his eyes – says Artur Totka.
Philip also invented a cheap mechanical keyboard, for less than 100 PLN, for gamers and programmers. The market price of similar equipment is more than 1,000 PLN. It takes about 20 hours to assemble it manually, but there are already many requests for it.
– Filip created a very interesting design, so that you can see all the internal electronics, which users really like. Anyway, I started a real one keyboardbecause Philip's sister, Amelia, also began assembling keyboards, and since she is in art school, it is also a design for girls: in pastel colors, bows, men – says Artur Totka.
The second keyboard invented by Filip is the touchless keyboard, incl. For people with disabilities, and the third, which is mechanical, but works on a non-contact basis by bringing the pointer closer to the switch. Work and tests are in progress.
Students of the Yaroslav school complex have become famous several times for their brilliant ideas and inventions. I started, inter alia, from 3D printing a prosthetic limb for a friend in 2019. Then there were more printed prosthetics. This year, students at the Basic Technology Lab built a phone charging station and handed it over to border guards in Przemyel for refugees from Ukraine.