We tested the Sharp Aquos EQ6, which differs from the EQ7 in frame color and finish elements. So it can be assumed that we examined both models. The manufacturer promises high quality for reasonable money. Let's check out how he does this tough job.
Sharp Aquos EQ6 and EQ7 – Models and Prices
This year's Sharp EQ series includes EQ6 black and EQ7 silver line. Either way, the TV frames are made of aluminum, and they are basically bare Android TV 11 Without Google TV overlay, the arrays are made in technology QLED (It gives better color reproduction thanks to the nano-crystal layer), and they are responsible for the sound system Harman/Kardon bi-directional speakers. Noteworthy among conductors 4 HDMI inputs (2.1, there is an eARC), two USB ports, an optical connector, a headphone connector, CI +, Ethernet, and even a microSD card reader. Naturally, there is also Wi-Fi and Bluetooth connectivity.
As befits a higher bracket, the set includes Two Remote Controls – Basic and clever, With voice assistant support. However, despite the higher positioning, the prices are surprisingly low (as of the date the test was published):
50 inch Sharp 50EQ6 – PLN 2699
50 inch Sharp 50EQ7 – PLN 2799
55 inch Sharp 55EQ6 – PLN 3199
55 inch Sharp 55EQ7 – 3299 PLN
65 inch Sharp 65EQ6 – PLN 4299
65 inch Sharp 65EQ7 – PLN 4499
75 inch Sharp 75EQ6 – PLN 6499
75 inch Sharp 75EQ7 – PLN 6499
The first impression is seriously a premium
Thin top and side frames and perforated feet add lightness to the device. What is worth adding, The Sharp 55EQ6 model has been tested for our tests And despite the smaller range of the 65- and 75-inch models, Tires are imperceptible here too. The exception, of course, is the bottom edge of the screen, but somewhere you had to install two-way Harman / Kardon speakers Dolby Atmos and dts: X, including Virtual: X. It is a replacement for a loudspeaker that simply needs this spot. It should be noted that the black and silver versions have a different pattern on the speaker grilles. Details look subtle, but for aesthetics they can be important.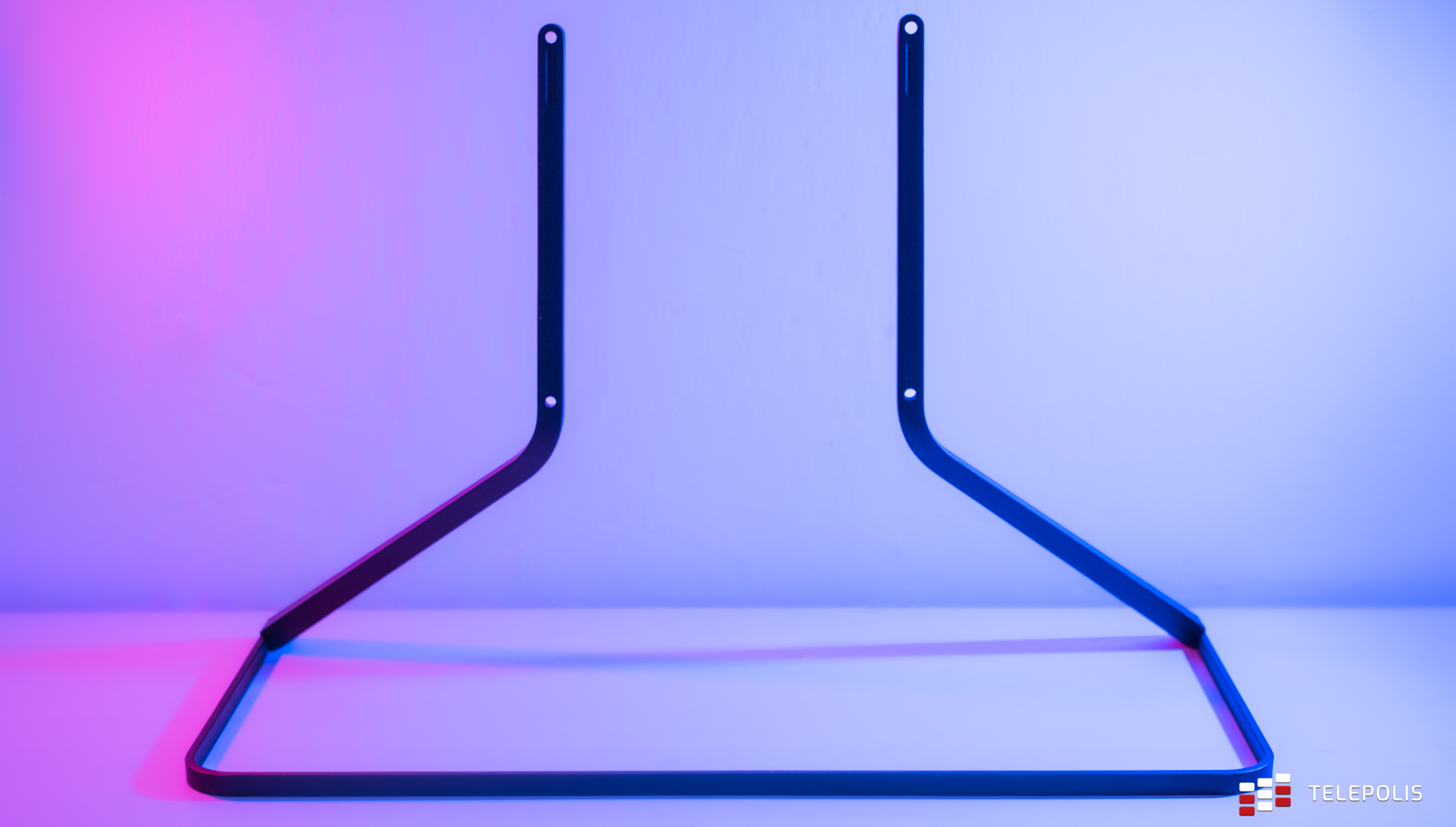 The foot of the TV is unusually taut, because we use a VESA connector 200×200 mm. Its central character allows the TV to stand on a piece of furniture slightly narrower than the width of the TV, without the risk of side foot sliding.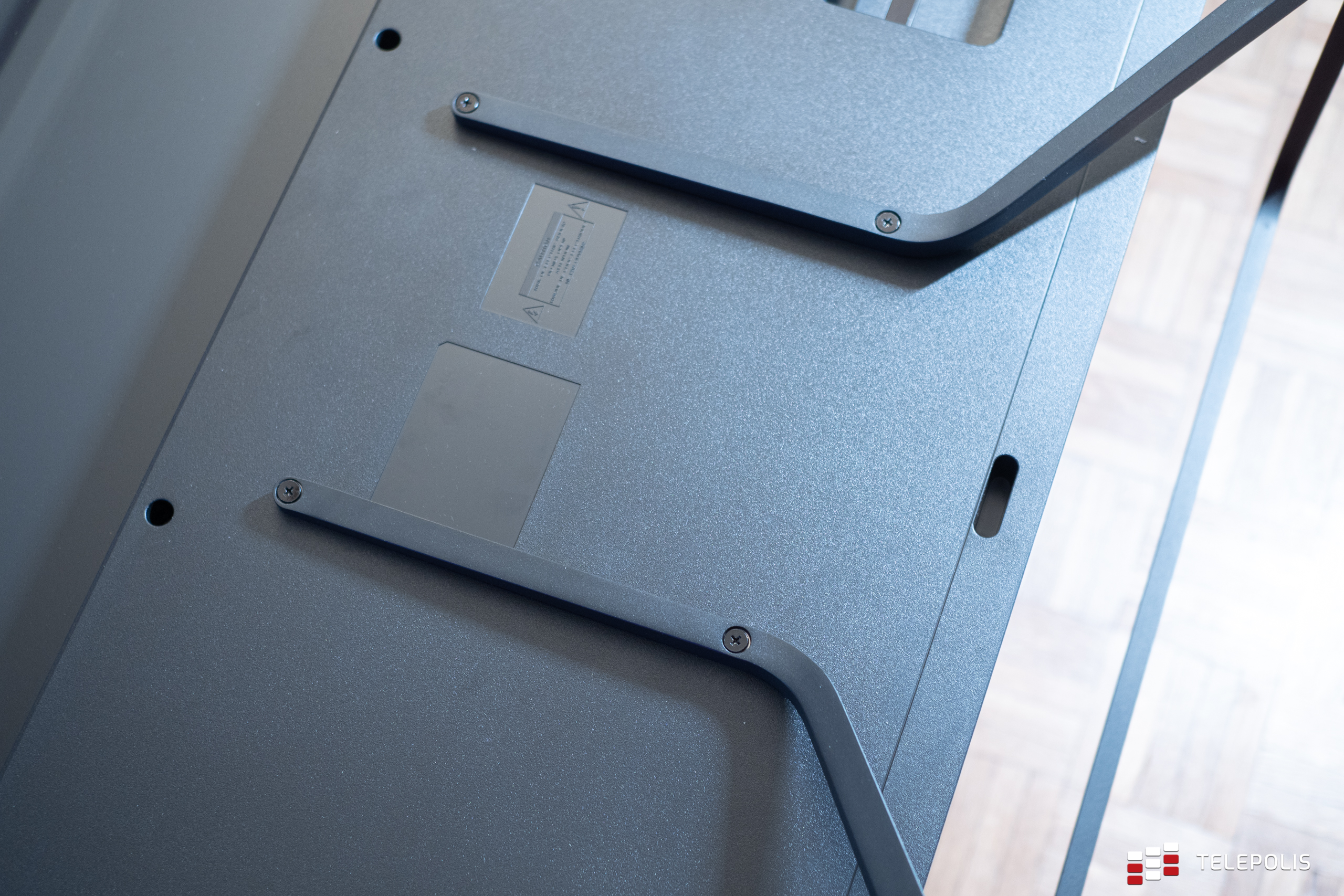 The positive impression continues after the initial configuration (visible in the video), because it is immediately There is a noticeable benefit from the QLED panel – deeper blacks and richer colors.
Interface without unnecessary extras
You can love Android TV, you can hate it, but you can't carelessly bypass it. First of all, it is The platform with longer support than competing solutions. You should not be afraid that in two or three years we will suddenly stop working, say Netflix or HBO Max. The list itself takes a bit of getting used to, if it's new to someone, but Its widespread use here is positive Whether with a number of TV manufacturers or with all set-top boxes.
Setting up the TV for the first time and an overview of the menu functions:
In terms of Xiaomi TVs, we get a lot from Sharp Expanded possibilities for controlling and calibrating image parameters, but it's also hard to talk about any exaggeration here – it's easy to find yourself in all of this. The fully usable standard modes are also happy – there is no situation, for example, you are looking too hard for anything in natural white, because all modes are very blue (and this happens with Xiaomi). You can not twist the whip from a weak matrix, so the effect of the QLED panel used in the TV is also likely. In short, we immediately came to the conclusion that even if there were any savings, it would not keep us up at night.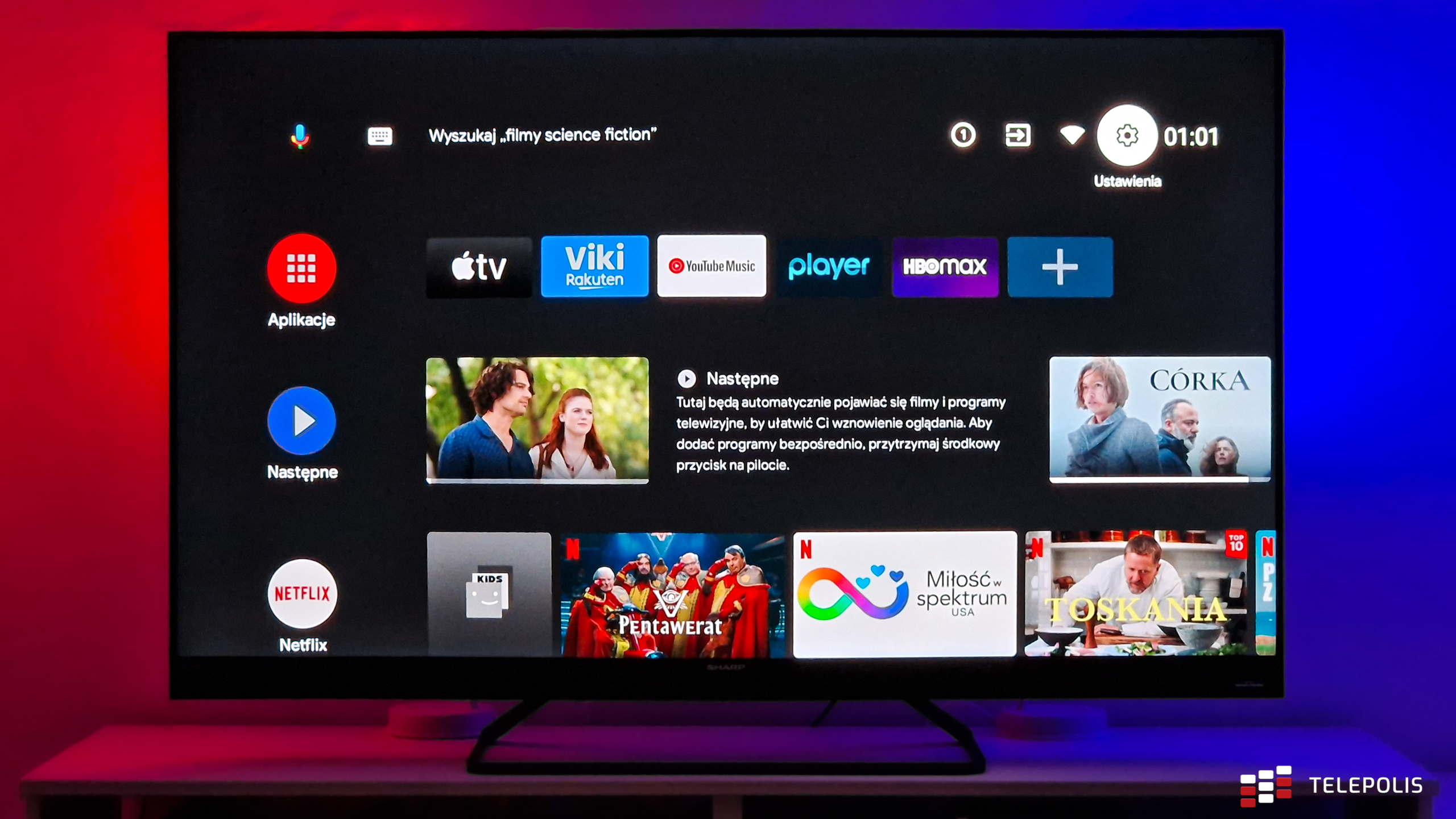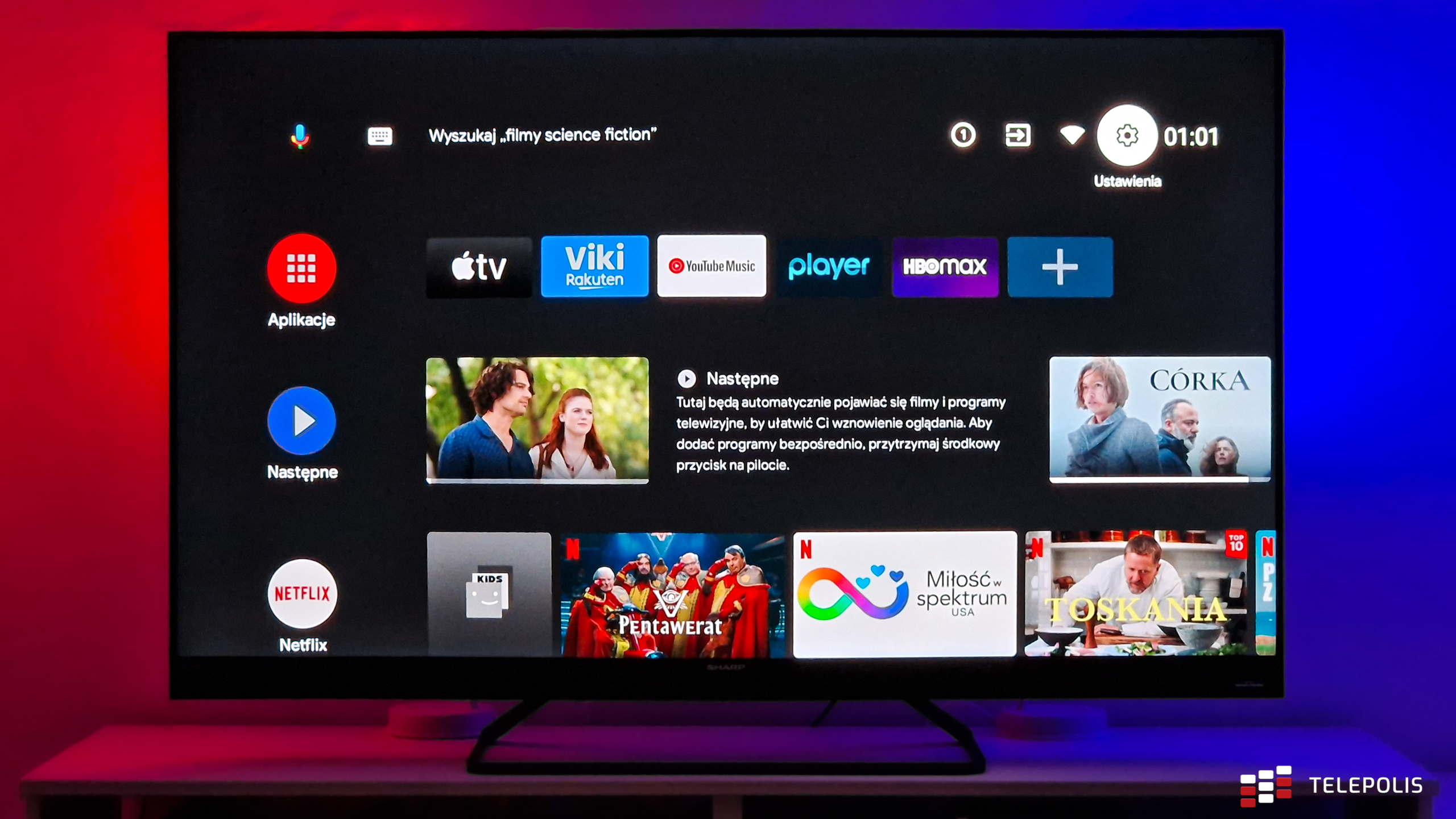 Returning to the interface, not counting the sound and picture settings and hardware shortcuts on the remote controls of popular VoD platforms, Sharp does not overwhelm the user with anything, certainly unnecessary applications. Traditionally, we go into the Google Store and choose from thousands of applications only what is important to us. However, let's not expect a huge amount of games etc., because the user has 4.3 GB (expandable with a memory card). It is correct to install all VoD applications available in Poland and there is still some space left. If you want to turn your TV into a console at a low cost, Install Google Stadia and connect the Bluetooth board.
The menu itself works really fast and I didn't notice a slowdown even after installing a long list of apps. The quad-core processor used, backed by 2 GB of RAM, does its job, just like in Chromeca 4. WIFI And although the devices (set-top boxes, consoles) are crowded under the TV, no There were problems with the transmission (Orange Phone Box 6).
Image source: Play
Scroll down to the next entry