Copyright © AFP 2017-2022. All rights reserved.
According to Donald Trump, the former president of the United States, the documentary "2000 Mules" proves that the last US elections were rigged. However, experts refute these allegations, arguing that the arguments presented in the film are circumstantial and assert that the film does not confirm that improper actions occurred during the elections. The judges dismissed petitions relating to electoral fraud. Moreover, there is ample evidence that voting in the last election was among the safest in US history.
The documentary "2000 Mules" is produced by conservative filmmaker Dinesh D'Souza. According to some Facebook users, the document proves that Donald Trump lost the 2020 presidential election due to fraud.
The 1.5-hour film tells the story of thousands of votes allegedly lost in some US states, in Arizona, Georgia, Michigan, Pennsylvania and Wisconsin, distorting election results. So-called "mules" in English slang refer to the criminal carriers that allegedly distributed illegal ballot papers. This was confirmed by observational recordings and geolocation data from cell phones collected by "True the Vote", the conservative vote-monitoring organization that previously promoted disinformation about the US election.
Hundreds of users have shared these opinions and video on social media, incl. on Facebook and the Bitchute channel.
Screenshot from Facebook taken on May 24, 2022
Similar publications have also been published in English, French, German and Serbian.
The former President of the United States referred to the video in a statement issued on May 3, 2022, in which he stated that the document proves "significant electoral fraud occurred during the 2020 presidential election." He himself organized a party for viewers of the film on May 4 in Florida. The event was attended, among others, by Marjorie Taylor, a Republican congresswoman, and Rudy Giuliani, Trump's former attorney and mayor of New York City.
Rumble said in a statement on May 9 that the video grossed over $1 million in the first 12 hours of the video's release. In turn, Dinesh D'Souza tweeted on May 13 that his film grossed over $10 million, making it "the highest-grossing political documentary since 2012".
"They rigged the 2020 presidential election," D'Souza says in the film. In 2014, the director pleaded guilty to financial fraud over an election campaign, but Trump later pardoned him.
Electoral fraud is one of the theories that Trump supporters have supported on social media after he lost the presidential election two years ago. In the 18 months following the November 2020 elections, isolated cases of suspected fraud were exposed, so far no court has supported the claim that it could have a significant impact on the outcome of the election.
"The evidence in the video is only circumstantial, and the makers of the film reached outrageous conclusions without sufficient justification," said Barry Borden, director of the Center for Election Research at the University of Wisconsin-Madison.
AFP has requested comments on the film from D'Souza, the "True the Vote" group and Trump's office, but our requests remained unanswered at the time of this article's publication.
The alleged location data from the mobile phone does not prove that it is a scam
In the True the Vote document, President Katherine Engelbrecht and Greg Phillips, who have previously published false opinions about election fraud, claimed to have obtained geolocation data supporting the claim of ballot harvesting (in red) in 2020.
When mobile users allow different apps to share location, some of those apps share or sell anonymous location data to other companies. True The Vote allegedly purchased such data in several states before and after the US presidential election.
Network providers themselves, such as AT&T, have sold anonymous customer location data in the past, sometimes resulting in violations of federal laws. Experts confirmed to AFP that it is unclear to what extent these sales are still going on, but the market for geolocation data for smartphone users is still legal.
Companies do not sell this data to individuals. Usually they are sold to third parties who collect them – says the professor. Jason Hong of the Institute of Human Computer Interaction Carnegie Mellon University.
A polling station employee helps voters on Election Day November 3, 2020 at Las Vegas Elementary School (AFP/Rhonda Churchill)
Engelbrecht and Phillips, who appeared in the film, say that according to their data, more than 2,000 people have visited polling stations and nonprofits in Atlanta and Philadelphia. They named the mule after a person with a mobile phone who approached the ballot box more than 10 times and approached a non-profit organization more than five times between October 1, 2020 and Election Day.
Based in part on an interview with an anonymous informant in Arizona, Engelbrecht and Phillips said nonprofits paid these "mules" to collect fake ballots and deliver them to the ballot box. However, the alleged informant, described in the film as the receptionist, did not say who paid her or how much she earned. However, experts interviewed by AFP said the allegations in the film could not be substantiated.
"Cell phone data is insufficient to prove anything other than that a person was within 100 feet of a particular location," says the professor. Charles Stewart, a political scientist at the Massachusetts Institute of Technology. – It is impossible to determine exactly where this person is, and most importantly, what he was doing at that time – he adds.
For example, a person who is alleged to have been near several ballot boxes could be a delivery worker, taxi driver, or postman working nearby. According to Borden, election workers have legitimate reasons to visit the places where the polls are, and for which there is a security system in any case. Moreover, these jars are intentionally placed in high traffic areas such as libraries or university campuses, which means that anyone can contact them.
"Many base stations don't use GPS," Hong says. "If you try to make accurate judgments about behavior, you can get a lot of wrong images," Hong adds.
In September 2021, the Georgia Bureau of Investigation said in a statement that mobile phone geolocation data provided by True the Vote is not evidence of illegal poll collection in Georgia.
"These data, while interesting, do not provide grounds for committing a crime," Vic Reynolds, director of the Georgia Bureau of Investigation, wrote in a letter.
Jenny Osborne (left) and Judy Nader (right) in voting shirts, stand next to the official Orange County ballot box, preparing to cast their ballots in Santa Ana, California, October 13, 2020. (AFP/Frederic J. Brown)
Collecting ballot papers is legal in many US states
In addition to geolocation data from mobile phones, the movie "2000 Mule" contains recordings of monitoring polling stations in states where there is a struggle to vote. In the film, Engelbrecht says that True the Vote obtained this material thanks to a request for access to public information.
The poor quality recordings seem to show people, sometimes late in the evening, putting more ballots into the ballot box. However, none of the videos show people voting more than once. Nor does it prove that the voters participated in the illegal vote-gathering project.
The filing of ballot papers on behalf of another person in the United States is referred to as "ballot collection" or, more pejoratively, "ballot harvesting." Under provisions of the National Conference of state legislatures, permission to file ballot papers on behalf of another person is in 30 states, including in Arizona, Georgia, and Michigan.
Many of these states allow only family members, family members, or guardians to do so, or place a limit on the number of ballots that can be submitted at one time. However, other countries do not have such strict restrictions.
Americans have been voting this way (by posting) since the Civil War, when soldiers sent their ballot papers off the battlefield.
In the 1980s, California became the first state in which voters could request a ballot in their absence—for whatever reason. The Covid-19 pandemic has increased the popularity of this voting method, although many states still use the ballot box and allow ballots to be collected. Statistics show that about one in six voters nationwide benefited from such a vote in the 2016 election.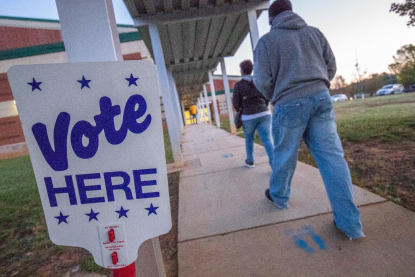 Voters arrive at Weddell School in Charlotte, North Carolina, November 3, 2020. (AFP/Grant Baldwin)
"Even if they have a video of people voting more, there are exceptions in all states to voting laws," MIT's Stewart says. "Without evidence to the contrary, the video alone proves nothing," he adds.
According to the Atlanta Journal-Constitution report, election workers in Georgia surveyed many of the films included in the documentary "2000 Mule." One of these films shows a man giving out five ballot papers – his own and his family members, Brad Ravensberger, the Secretary of State, said in a recent debate.
The US Cybersecurity and Infrastructure Agency said in November 2020 that voting in the presidential election was "the safest in US history". Since then, there has been a growing body of evidence that election fraud did not occur.
Dozens of lawsuits filed by Trump and his supporters to nullify the election results have failed. The US Supreme Court has rejected several petitions challenging election results in key states. Several checks and counting votes, incl. Arizona, Georgia, Michigan, Pennsylvania and Wisconsin confirmed President Joe Biden's victory. Officials from both parties, including William Barr, Trump's own nominee for attorney general, have repeatedly denied accusations of election fraud.
– In their opinion, two thousand. "Mules," says Douglas Jones, an associate professor emeritus in the University of Iowa's Department of Computer Science. "Small plots are usually hidden, and with so many participants it would be very difficult to recruit so many people without some of them recording every conversation and exposing the criminal details of the plan," he adds.
Allegations of rigged elections in the United States were verified by AFP in English, Serbian and German. You can read our articles on the 2020 US Presidential Election here and here.