The complex of technical schools in Oliko has completed the project "Internships in Spain as an investment in the future". The project allowed 48 students and 6 teachers to complete a three-week training in Spain.
Everything good ends quickly. The Oliko Technical School Complex has completed the project "Internships in Spain as an investment in the future" No. 2020-1-PL01-KA102-079185 funded by the European Social Fund, Operational Program for the Development of Knowledge Education (POWER) under the project "International Mobility of Learning for Students, Graduates as well as Professional Training Staff".
The project enabled 48 students and 6 teachers to complete a three-week apprenticeship in Spain. The first group that left for Granada in November 2021 were IT professionals, hairdressers, chefs and bakers. The second includes mechanics, masons, economists, electricians, and carpenters. These courses took place in turn in March 2022. Students completed on-the-job training courses according to their field of education, while teachers participated in training at Arcan Studios in Granada, in the field of creating 3D models in computer science, mechanics and construction.
The whole accommodation was organized by the company Europuente Spanish Project Partner SL, already friends of the school, which looked for suitable workplaces (there were 30 of them in total) and took care of suitable accommodation conditions and an interesting cultural programme. The company, as usual, did a great job. The students were very satisfied with the training, because the factories welcomed them warmly and at the same time had a lot of opportunities to develop their professional skills. This is another project carried out with this company and, in good conscience, it can be recommended to all schools that want to start their adventure with foreign training programmes, because we have a guarantee that the accommodation conditions will be good, and the cultural program will be 100% implemented.
Granada It is a large and beautiful city with an interesting history. Christian, Islamic and Jewish cultures meet here, creating a unique blend of what is best in it. The project participants had the opportunity to experience it all while wandering the narrow streets of Albacin or visiting the noble cathedral. And, of course, the Alhambra – one of the wonders of architecture – also had a great influence on them. What they saw was completely new and sometimes surprising to them, but it certainly changed their perceptions of people in other countries and opened them to the unknown forever.
Is it worth it to face such challenges and implement the funded projects?
from the European Union? The answer is simple – yes, it is definitely worth it. Such a project brings a lot of benefits to students, teachers, school and our entire community.
First of all, students get to know the world. And it is not only about the culture of another country, but also about the way of working in a completely different and exotic environment. For some, it was difficult to survive three weeks away from their families, for others – to make friends, learn different customs or explore the city on their own, looking for impressions and adventures. Such residency undoubtedly builds self-confidence and self-esteem, strengthens courage and awareness of one's abilities. It can be said that students return to Poland more mature and ready to manage their own destiny. They are more open to communicating with others and are not afraid of challenges.
Educators also remember their participation in the project as a unique opportunity for development and improvement. This applies to both those who participated in the training and the teachers who worked as teachers. Participants in the training acquired new skills related to the latest generation technologies that they are already using in their work. What they learned, they now communicate with their students in class and in extra-curricular activities. They also had the opportunity to admire the beautiful scenery and expand their knowledge of Spain, and then share their impressions with other teachers who haven't been able to experience it all.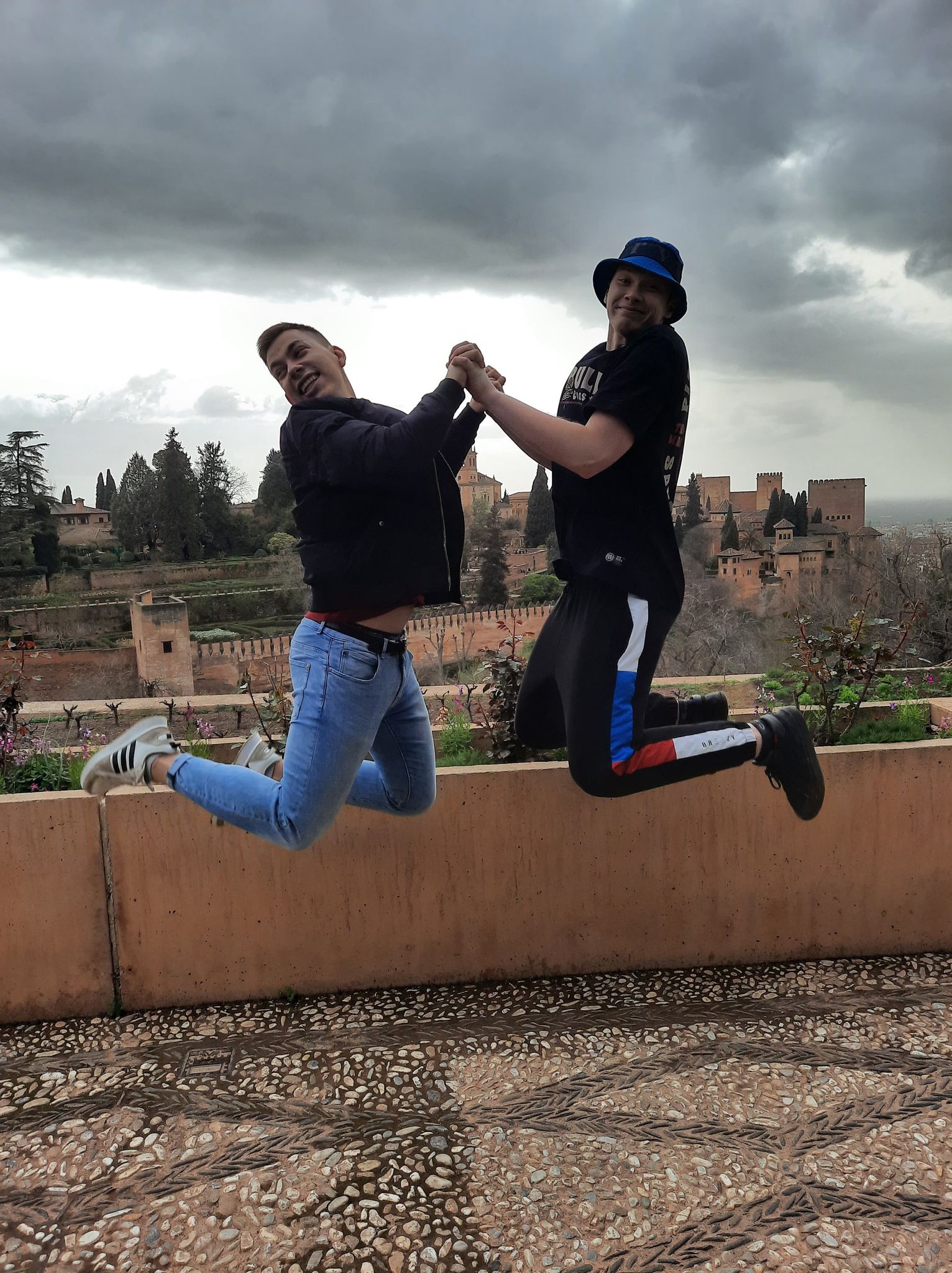 It can be seen that the school is getting better at implementing projects because it understands better what is important, and what you should pay attention to to get the best results. Of course, every such project involves a lot of bureaucracy, and at the same time constant vigilance is necessary during implementation, but as experience is gained, we do better and better. It must be admitted that this project was especially difficult and surprising, since it was necessary to take into account additional rules related to the epidemic, to comply with the regulations not only in Poland, but also in Spain, which sometimes differ significantly.
What can we be proud of now? First of all, a huge network of contacts abroad: in Spain, Italy, Germany, Lithuania and Ireland, which we will be able to use in the implementation of further projects. Participation in projects gives many benefits, first of all, students gain professional experience and obtain certificates recognized by European Union countries, in addition they have the opportunity to improve their language skills and meet interesting people and interesting places.
On the other hand, the school gains the view that it is open to Europe and new opportunities, and it is brave
Facing new challenges.
This is why it is worth taking the trouble and using the projects.
The project "Internships in Spain is an investment in the future" No. 2020-1-PL01-KA102-079185 funded by the European Social Fund, Operational Program Knowledge Education Development (OP KED) under the project "International Learning Mobility for Students, Graduates as well as Pedagogical Staff professional"