The first phase was introduced on March 28 this year. in the Dolnośląskie and Lubuskie regions. The second phase was implemented on April 25 this year. It has already covered a much larger area of ​​the country, because Zachodniopomorskie, Pomorskie, Wielkopolskie, Kujawsko-Pomorskie voivodship and the northwestern part of Mazowieckie voivodship. The change applies to well-known TV channels from MUX-1 (TVP ABC, Eska TV, Polo TV, Stopklatka, Antena HD, Stopklatka, TV Trwam, Fokus TV) and MUX-2 (TVN, TVN7, Polsat, Super Polsat, TV4, TV6). TV Puls, Puls 2), MUX-4 (Events24). All of these stations are now broadcast in high definition (HD) instead of standard (SD), as has been the case in most cases until now.
TVP and MUX-8 channels are still the old standard
According to the old DVB-T standard, MUX-3 (TVP1 HD, TVP2 HD, TVP3 Katowice, TVP Info HD, TVP Historia, TVP Sport HD), MUX-8 (Nowa TV, Wp, Zoom TV, Metro, TVP Kultura HD, TVP Woman). Only recipients whose devices do not support the DVB-T2 standard or HEVC codec can view these stations. To access others in HD again, simply use a government coupon to buy a set-top box (PLN 100) or a TV (PLN 250). Co-financing can be easily obtained through the staff of Poczta Polska or the government website.
Telewizja Polska channels can broadcast in the old standard after the request of the Minister of the Interior and Administration to the head of the Office of Electronic Communications. This will be possible until the end of 2023. At the moment, it is not known when MUX-8 and most local multiplexes operating in the Dolnośląskie, Lubuskie, ódzkie and Śląskie regions will switch to the DVB-T2 / HEVC standard. The third phase of the review of the MUX-1, MUX-2, and MUX-4 standards is scheduled for May 23. It will cover the following areas: Podkarpackie, Małopolskie, Świętokrzyskie, ódzkie, Śląskie, Opolskie and Southern Wielkopolska. The fourth and final stage covering Mazowieckie, Warmińsko-Mazurskie, Podlaskie and Lubuskie regions is scheduled to take place on June 27.
TVN warns against changing the standard
The National Media Institute estimates that 1.7 million households in Poland are not ready for the new standard. They are mostly old and lonely. – You can read about the change of the digital terrestrial television standard on tape on TVN, TVN7 and TTV channels (regardless of the form of distribution), as well as on the board on hybrid television. Last weekend, the same stations broadcast a 15-second spot in the form of a social ad – Reports the Discovery Group's TVN press office.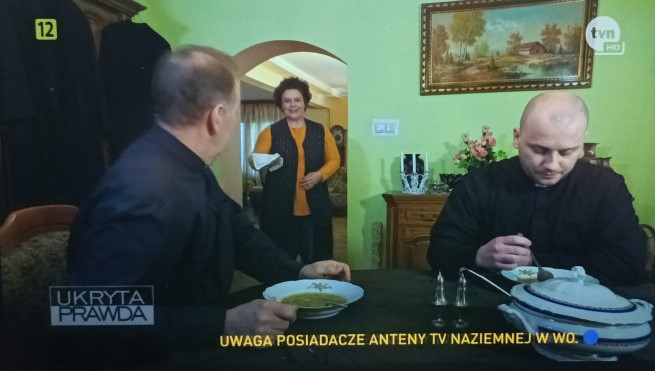 The station at the bottom of the screen has been informing viewers for several days that they may lose access to TVN channels. She encouraged people to use the Ministry of Digitization hotline and the TVP and Emitel hotlines. The material for the new standard was also broadcast by TVN's "Fakty". – The topic of changing the standard and what measures should be taken so as not to miss the opportunity to watch our channels available on digital terrestrial television on the air, in channels, news programs and other programs, for example on Dzień Dobry TVN, is also discussed. We also provide video materials and dashboards on this topic on TVN, TVN7 and TTV channels and formats, TVN Grupa Discovery adds.
Advantages of DVB-T2 / HEVC
With the switch to DVB-T2 / HEVC, not only all commercial stations can be provided in HD quality. TVP plans to launch additional thematic channels TVP Nauka and TVP Muzyka at the end of this year. In the same period, it is planned to revitalize the TVP4K channel in Ultra HD quality, this time with entertainment content.
– DVB-T2 / HEVC is a new international broadcasting standard that allows you to stream more TV channels, and also guarantees better picture and sound quality – Praises Michal Kanonic, President of the Digital Poland Association, which in our country represents television producers such as Sony, Samsung, LG and Panasonic. – This standard, which provides an Internet connection, also allows recipients to access new functions, so-called hybrid television, such as stopping an on-demand program, participating in voting with a remote control or viewing additional information about actors in a broadcast production – Michał adds Kanownik.
Replacement TV or set-top box?
HbbTV offers TVP GO (Movies, Series, TVP Programs, possibility to withdraw programs on individual channels for up to a week) and Polsat VoD (movies, series, well-known programs from Polsat channels for free with ads). Hybrid TV can only be found in more expensive set-top boxes, which is why the Digital Poland Association encourages you to buy TVs.
TV viewers who bought TVs produced after 2019 can rest. However, people with older receivers (even modern ones with a flat screen) should check if their devices are adapting to the reception of the new standard. How do I do it? For example, it is enough to visit the website Telewizjaaziemna.pl, where through a special search engine you can find out whether our model adapts to the reception of the new broadcasting standard.
– If the TV set cannot receive a DVB-T2 / HEVC signal, then its owner must purchase a new model or a special set-top box – says Michał Kanownik and advises you to think carefully about the type of device to choose. Now is the time to consider replacing your old TVs with new ones. For many audiences, this can mean a huge qualitative change related to improving picture and sound quality, or a smart picture that adjusts colors according to current room conditions. TV production technology has changed dramatically in recent years – says President Cyfrowa Polska. The expert emphasizes that when deciding to purchase a decoder, we must be aware that it will not allow us to take full advantage of the advantages of changing the broadcast signal. – Such a device will enable us to receive a digital signal, but, for example, it will not improve the picture or sound quality – he notes.
Digital Poland experts refer to the website www.gov.pl/CyfrowaTV, where you can apply online for such government funding. This can also be done through the offices of Poczta Polska. – We expect that with the expansion of DVB-T2 / HEVC coverage, the number of people interested in new receivers, as well as in applying for a government voucher, will increase. However, I can assure you that manufacturers and retailers are ready to increase consumer demand for TVs – confirms Michau Kanonic.