KIM has published the results of the first wave of the foundational study on its website, which will allow it to study the preferences of media users. The report covers the measurement conducted by the Kim Institute from July 2021 to March 2022 on a random sample of 9,552 households and an extrapolation of the total number of households in Poland. The foundation study is conducted by KIM on an ongoing basis. In the end, the study will cover 30 thousand. families per year.
Who uses 4K content?
In our country, Full HD TVs are the most popular (32.8%). 23.6% of respondents disclosed that they have HD / HD Ready devices with 18.5 percent. Can watch TV and use broadcast platforms display in 4K quality and 1.3% at 8 kilos. 23.7% do not know or remember the equipment they own. Ignorance among the older recipients (over 65) is the highest and reaches 40.61 percent. In the under-25 group, there are most of the owners of 8K equipment (3.5%).
See also: 4K-ready columns, and little content. "It will be standard, but slower than HD"
4K is most popular in the 25-34 age group (28.9%). Ultra HD quality is more popular in cities than in the countryside. Owners of the best TVs often use cable display (22.2%), satellite (22.1%), and satellite or cable and terrestrial (20.1%). The survey doesn't just list people who watch TV via broadcast.
Most 4K content in streaming
A few months ago, Eutelsat reported that up to 50 percent are in the United States and Western Europe. Recipients have 4K TVs. The satellite operator lamented that broadcasters invest so little in broadcasting such channels via satellite. In Poland, the cheapest 4K TVs can be purchased for about 1,500 PLN.
In 4K, you can watch select products on Netflix (if you bought the most expensive package), Amazon Prime Video, HBO Max, Polsat Box Go, Player, and more. Eleven Sports 1 4K, Canal + 4K Ultra HD, Museum 4K and Insight TV UHD, available on digital platforms and cable networks. Love Nature 4K channel may join them soon. For streaming services that offer the most 4K content, optical fiber is useful (in the case of a mobile connection, there are often data limits). That is why it is easier to use 4K for cable subscribers from cities.
97.4 percent of viewers use a TV to watch traditional television, 3.9% to watch online television, 5 percent for games, 3.5 percent for movies on DVD or Blue Ray, 14.2 percent. For watching clips on YouTube, 22.8 percent. For broadcast services, 1.8 percent. To listen to the radio 4.9 percent To listen to music from playlists (such as Spotify). Cable subscribers (30.1%) often use TVs to use SVoD services. The least frequent users of terrestrial television only (9.1%).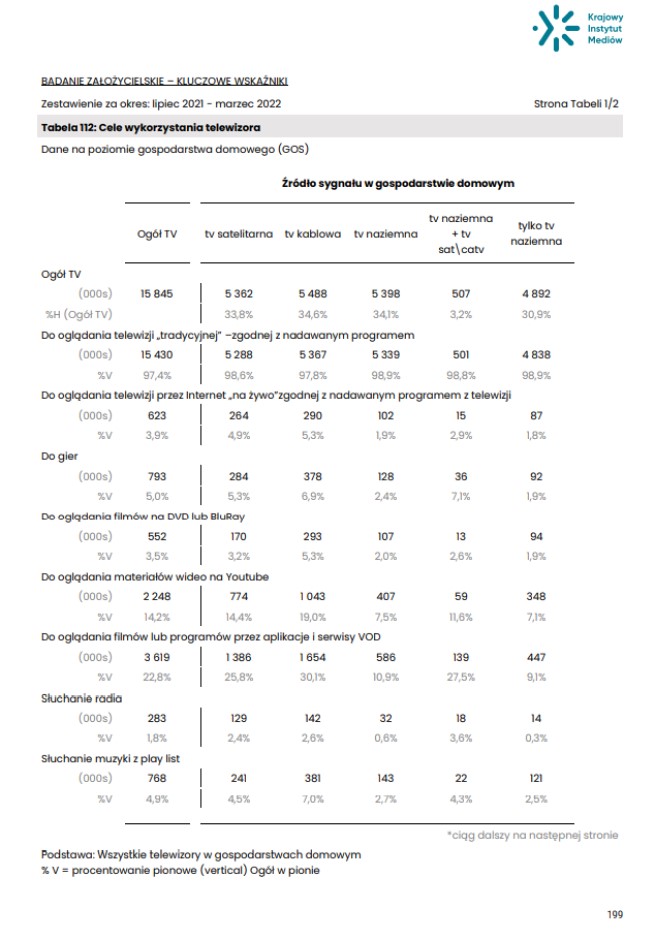 Most TVs are from 40 to 49 inch
4K quality is sharper on larger TVs. In Poland, despite the efforts of equipment manufacturers, such devices have not yet prevailed. Most respondents own TVs from 40 to 49 inches (39.4%). Viewers occupy the following venues with equipment 32 to 39 inches (24.4%), 50 to 59 inches (23.1%), less than 30 inches (5.8%), 60 to 69 inches (5 2%), 70 to 79 inches ( 0.9 percent), greater than 80 inches (0.1 percent). 1.1 percent of respondents do not remember the size of the TV set. KIM also examined the age of televisions used in Poland. The most, because 38.6 percent. From 5 to 10 years, 34.8% From 2-4 years 10.2% up to a year, and 6.9 percent. More than 10 years. 9.5 percent do not remember when they bought the equipment.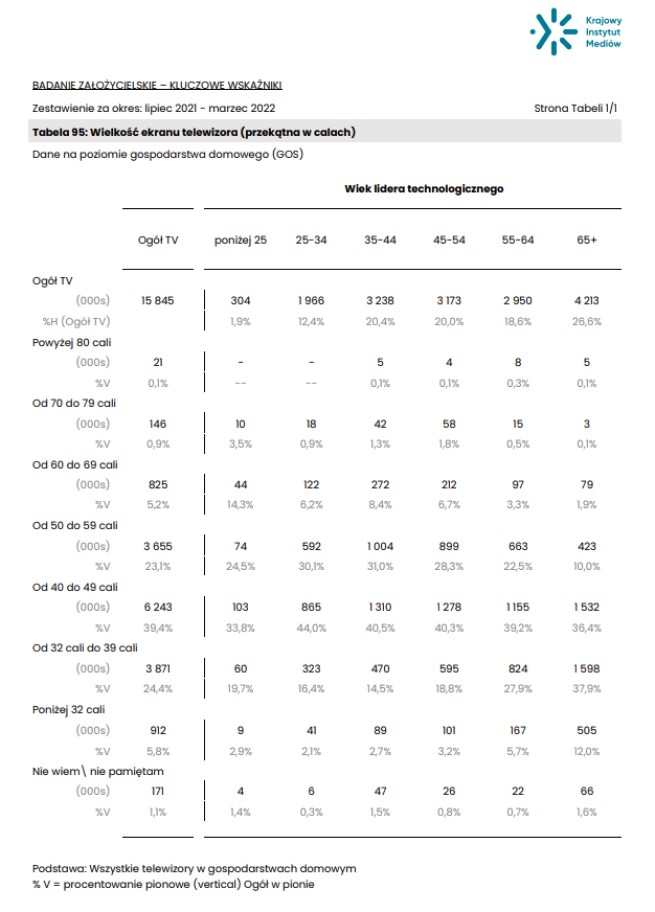 Larger TVs are often 8K compatible. Samsung, which showed 8K TVs three years ago, announced that so far 6 thousand of such equipment have been purchased by the Vistula River. families. In the period from January to September of last year, their sales increased by 150 percent. Compared to 2020. According to the latest data from Samsung, for the period from January to September last year in Poland, sales of 85-inch TVs of this company increased sevenfold. Most 8K TVs on the Polish market cost more than PLN 10,000. zloty. Equipment for 6000 is rare. zloty. There is also a lack of 8K content apart from the landscape clips etc on YouTube.