3 million Ukrainian refugees arrived in Poland, half of them remained. The government estimates that its maintenance will consume 13 billion euros this year, and if the war intensifies – up to 24 billion euros. The European Commission has made available to Poland just over 500 million euros under a program of support equivalent to 5.7 euros per day for each refugee. Why can't you manage a real fund like Turkey in 2016?
The needs are enormous, and not a day goes by without us discussing in the committee how to address them, if the war continues. At the moment, however, the already available resources should be used. This is a very urgent issue. After all, the Poles accepted refugees into their homes, they live in schools and shelters. They need accommodation and health care. It's not just 500 million euros. There is also €2 billion available from the EU budget, which has now expired, but the money from it can still be used over the next two years. However, it is necessary to hurry so that the possibility of using these actions does not end.
We are talking about very small measures compared to the needs. Poland is ruled by a group of EU skeptics that they are happy to use to prove the EU is not working and score points ahead of parliamentary elections. In southern Europe, populist groups were in their sails during the financial crisis, because Germany refused to agree to Union support for them. Why was the Union unable to mobilize emergency aid in the third month of the war?
The European Commission can only operate within the current seven-year budget. Its size, as well as the allocation of funds, was determined by the member states and the European Parliament. The commission cannot create any new money here! For this, it will be necessary to take a unanimous decision of the "27" capitals and MEPs. Only in such a complex operation can funds be reduced in a certain region and transferred to help Ukrainian refugees. We are not at this point yet.
Prime Minister Morawiki claims that the reconstruction of Ukraine can be financed from the assets of the Russian oligarchy and the reserves of the Russian Central Bank. Is it possible?
I hope so, because it's a good idea. That is why we have set up a special task force at the Commission to freeze the assets of the Russian oligarchs. Of course, freezing is different from confiscation. But we are also working closely with Europol to investigate whether there is any possibility of criminal proceedings here. We are also examining the readiness of Member States to support such decisions.
Minister Ziobro believes that since there is no serious assistance to refugees, Poland should suspend the payment of at least part of the EU contribution in order to find funds for it. What does Brussels say?
Never in the history of the union. Member states have always paid contributions, even during the financial crisis, even when some of them have been in really dire straits. I hope it continues to be so. I don't want to speculate what would have happened if otherwise.
self promotion



New Parkiet.com
count
deep analysis

" Check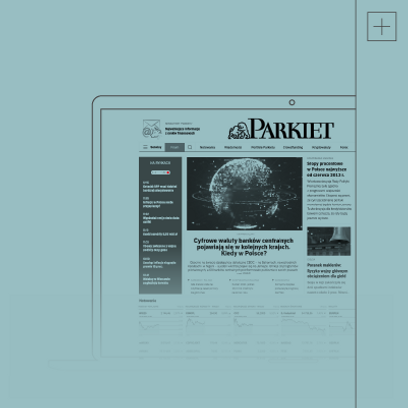 Poland, along with Hungary, remains the only EU country that still does not have access to the reconstruction fund. However, there is war and the situation is unusual. Does this justify a less principled approach by the Federation to the rule of law?
We are ready for an agreement. However, we are waiting for Poland's initiative. Therefore, no movement is expected here from the Commission. When it comes to the rule of law and the protection of democracy – isn't that what the war in Ukraine is about? Ukrainians are fighting for freedom and the rule of law! We support them because they are dying for our European values! That is why the European Commission will continue to carry out the task entrusted to it: that everyone in the Union abide by our rules, the treaties.
So, in the present circumstances, strict enforcement of the rule of law becomes even more important?
You can say that. In Ukraine, people are sacrificed for this, mercilessly raped and bombed. Yes, they are being persecuted because they are facing Putin who wants to violate the rule of law and democracy in Ukraine.
So, nothing will change without the liquidation of the Disciplinary Chamber and the reinstatement of the Supreme Court justices?
This is due to CJEU's ruling. It will not change.
The Commission initiated a conditional action against Hungary that could lead to payments from the Union's regular budget. Should Poland be afraid of the same?
I don't want to speculate. I expect member states to follow the new treaties and disbursement clauses from the EU budget in relation to the rule of law. In any case, UNHCR is obligated to ensure that these conditions are implemented.
Are the cases of Poland and Hungary different?
Yes, they are different. In the case of Poland, the decision of the CJEU mentioned above is to guarantee the independence of the judiciary. Hence the penalties imposed by the Luxembourg judges. But these are the conditions that apply to all EU countries.
Is there not a war in Ukraine for the rule of law?
Elva Johansson
We have the biggest humanitarian crisis since World War II. And Frontex is completely invisible in it.
this is not true. Frontex sent nearly 300 of its officers to the border with Ukraine. Mostly to Romania, but also to Slovakia. We have 21 of them at the Polish border. We also have this expectation from Moldova. Usually, an international agreement is needed for this, which is negotiated for a year. We did it in two weeks. Frontex is ready to send 2,500 people to the border with Ukraine, but it can only do so if requested by member states.
The European Union recognized Belarus as an aggressor. Despite this, the Polish border guards refuse immigrants who try to reach our country from there. Does it comply with international law?
This practice (pay back) is illegal. But migrants are also not allowed to cross the border anywhere. They cannot forcefully enforce this limit. On the other hand, they should be treated humanely by the border guards. The complete closure of borders does not comply with the standards of international law.
Read more

So Poland is breaking these rules?
I have doubts about that. Also in relation to Polish law. We want to evaluate this, but the Polish authorities should send us these regulations. We haven't received them yet.
Poland did not want to help other EU countries during the migration crisis in 2015. Why does Brussels receive such help now?
I have a completely different view on this. When I started working at UNHCR, I wanted to get rid of immigration paralysis. For me, the starting point was to assume that migration is normal, but that it needs to be managed properly. Preferably with third countries. Here, she managed to bring about a more positive attitude in the Council of the European Union. The result is the decision to launch the Directive on Temporary Protection of Refugees, which EU countries adopted unanimously on March 3. So a few days after the start of the war. This directive has been in place since 2001. It was supposed to be launched in 2015, but there were no political conditions for it at that time.
Read more

Before the war, mainly Arabs and Muslims fled from Syria. Now the Slavs and Christians.
I am convinced that this is not the reason.
Why does the idea of ​​relocation not come back?
This is possible, of course, but Member States must come up with such an initiative. We are also in a completely different situation than in 2015. Ukrainians benefit from 90 days visa-free travel, followed by temporary protection. Therefore, they can travel freely throughout the European Union, without moving.
The rise in food prices due to the war could lead to a large wave of immigration from countries such as Egypt. Looking at the election results in France, where Marine Le Pen got 42 percent. It is difficult to say that the union is ready for this.
Within two months, 5 million refugees from Ukraine arrived in Europe, 3.8 million of them remained here. Six months ago, no one expected such solidarity from Europeans. When it comes to the threat of starvation in the countries of the Sahel and Africa, the solution cannot be everyone fleeing to Europe. As I said, migration requires management, that is, assistance to the countries from which migrants come. The union is trying to do so.
Read more

Emmanuel Macron is likely to embrace the idea of ​​European sovereignty again, especially if Donald Trump returns to the White House.
I don't think the union should turn into a military alliance. This is the goal of NATO. But there are other security dimensions as well, such as protecting cyberspace. We must do more here.
Do you support building a federal Europe as written in the coalition agreement of the German government?
no. I like the deal we made at Etihad today. We do not need systematic changes. However, we must be flexible. As it happened during the pandemic, when the Federation, which was not involved in protecting health, was engaged in the procurement of vaccines and the issuance of health certificates. And also when, in this exceptional situation, I decided to accumulate debts and create the Reconstruction Fund.
Read more

Your country, Sweden, should join NATO?
We've been neutral for a long time, and we've done well. But the world has changed. It's before and after February 24th. We are facing an enormous security threat in our part of the world. Many countries have to learn from this. Hence the change of public opinion in Sweden regarding joining NATO and the steps taken by the authorities in this direction.
If Russia attacks the Baltic countries, will Sweden help them?
This must be decided by the Swedish authorities. I represent the body.
Read more

In 1988, she entered the Swedish Parliament based on a letter from the Communist Left Party. Perhaps it can be assumed that at that time she was carrying a certain delusion towards the Soviet Union. How do you see Russia today?
Already in 1991 – I was 27 years old – I left this formation and resigned from the parliamentary seat. I realized it wasn't my party. At that time, there were sharp disagreements between supporters and opponents of communism. I was in opposition, I wanted changes. It was then that a decision was made to change the name and quit referring to communism. However, I decided that this party would not really be reformed, so I decided to leave and join the Social Democrats.
Do you think Russia will change one day?
Of course, Russia is a change for the better instead of the Soviet Union. 20 years ago, we were all very optimistic about the changes we expected. But she didn't. I am Swede – we have never been so naive towards Russia. Many Swedes supported Finland during the war with the Soviet Union, and Russian submarines were approaching our islands. Russia is a major threat that Sweden and Finland have taken on board with neutrality. However, after the invasion of Ukraine, we have a completely new situation that has sparked a new approach to security in both countries.