DVB-T2 / HEVC is a new standard for terrestrial television. From March this year, it will be introduced successively in different regions of Poland, and from June 30 it will be implemented throughout the country. Do you want to change the TV? How can I continue to receive my favorite programmes?
The start of the new year isn't just an opportunity for ambitious resolutions – it's also a revolution that is fast approaching for people using terrestrial television. from June 30, 2022 The current DVB-T broadcast standard will be replaced by DVB-T2 / HEVC.
DVB-T2 / HEVC is coming – how to prepare?
what does that mean? First of all, the fact that from this year, only TVs with a built-in DVB-T2 / HEVC tuner will be able to continue receiving programs broadcast as part of digital terrestrial television. Owners of older receivers must decide whether to replace the TV with a new one, compatible with the upcoming standard, or decide on an external set-top box.
Both options have their pros and cons. An external set-top box is often a cheaper and less attractive option. We do not have to replace the old equipment, but it is enough to attach an additional "box" to it, which will be located somewhere on the TV stand. However, using such a system may be more complex (there may be a need to use two remote controls, an additional power source, there may be two separate interfaces, etc.) and – most of all – we may not feel some of the benefits associated with the transition To the new DVB-T2 / HEVC terrestrial television broadcast standard related to picture quality for example if we have, for example, a Full HD TV and a set-top box.
Therefore, it is worth considering the purchase of a TV that is compatible with the new terrestrial television standard. This is a more expensive option, but it can bring many benefits in the long run and allow you to take full advantage of what your new TV will bring.
The new standard for terrestrial television is higher picture quality
First of all, the new TV will allow us to enjoy much higher picture quality. With better use of the radio band, the DVB-T2 / HEVC standard will make it possible to transmit programs in the . format 4K resolution, four times higher than in the case of conventional Full HD. This means a more realistic and detailed picture, even in the case of larger screen diagonals.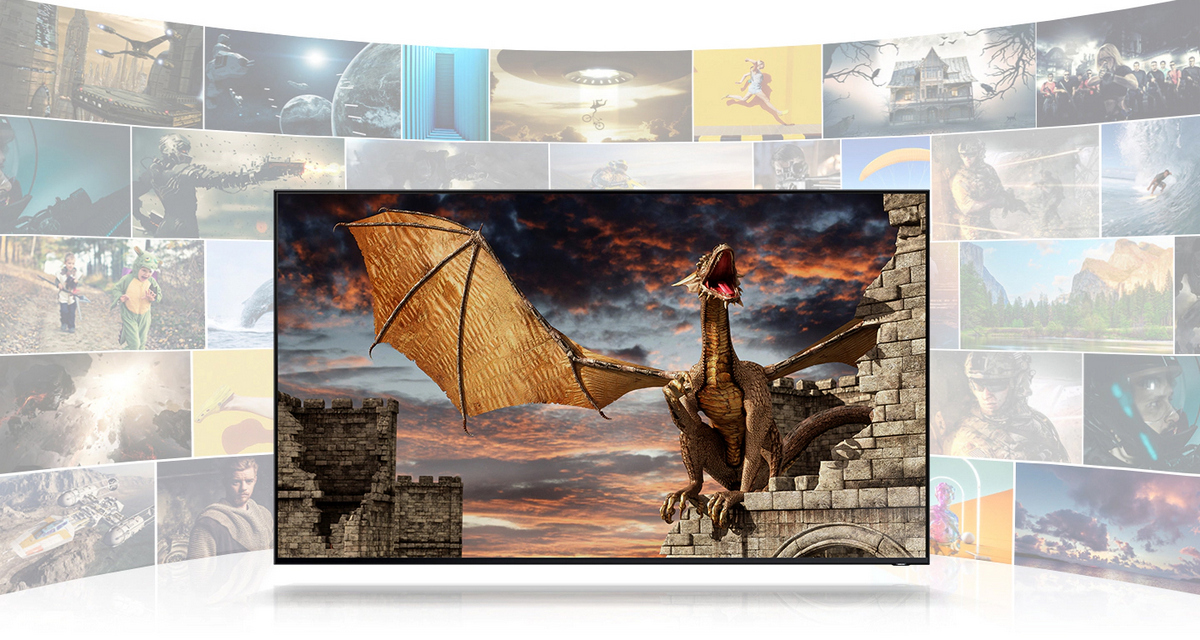 If you're still carrying around your old 43″ TV for fear of losing quality when you switch to a bigger screen, you don't have to worry anymore. In the case of 4K resolution, you can easily reach panels with a diagonal diameter of 55″, 65″ or larger while still enjoying the sharp image like a razor.
It is worth noting that higher resolution will pay off not only in the case of broadcasting 4K programs according to the new terrestrial television standard. Thanks to technology Upgrade Newer TVs can also make lower-resolution material – for example broadcasting in Full HD or from Blu-Ray discs – look much better. Well, often the enhanced image is not much different from the content originally rendered in 4K.
This type of technology can be found in almost all new Samsung TVs. Long family models are especially good at this QLEDWhere the processor is used to upgrade AI Quantum 4K technology and advanced machine learning algorithms. Even in the case of cheaper hardware, the leap in quality can make a big impression.
It is worth noting that the world does not end with 4K and they are at your fingertips today 8K TV Provides higher image quality. We'll find them, among others, in this year's Samsung Neo QLED line.
DVB-T2 / HEVC – More channels for everyone
However, the higher picture quality isn't the only advantage of the upcoming new terrestrial TV standard. Thanks to DVB-T2 / HEVC technology and better radio band management, it will be possible above all to transmit More data.
this means More channels At your fingertips. Thematic programs, news, films – the possibilities are basically endless. As viewers, we will be able to enjoy a wider range of content tailored to our needs and interests, while maintaining the highest quality of picture and sound.
TV with DVB-T2 / HEVC – which one to choose?
What to look for when choosing TV with DVB-T2 / HEVC support? First of all, it is worth checking whether we really need it. While the new terrestrial TV standard is revolutionizing in many ways, your current TV is likely already compatible with it, especially if you've purchased it in the last 3-4 years. How do you scan? The easiest way is to look at the instruction manual. If you already own a Samsung TV, check it out on a specially prepared website.

When deciding on a new TV, it should be so much easier that all the devices in stores already support the DVB-T2 / HEVC standard today. However, for safety, it is worth making sure before buying and looking for this information in the table with technical specifications on the manufacturer's website.

In addition, it is worth paying attention to the resolution and diagonal of the screen. As mentioned earlier, it will be possible to accurately broadcast content according to the new terrestrial television standard 4Kthat it 3840 x 2160. Therefore, it is worth looking for a model that will allow us to take advantage of this.
When choosing a particular model, it is also worth paying attention to the possibilities that it provides apart from receiving terrestrial television. This is especially true for solutions in the field Smart TV. For example, on Samsung TVs equipped with an accessory tizen You can watch popular content without the help of additional devices broadcasting servicessuch as Netflix, HBO Go, and receive TV channels over the Internet.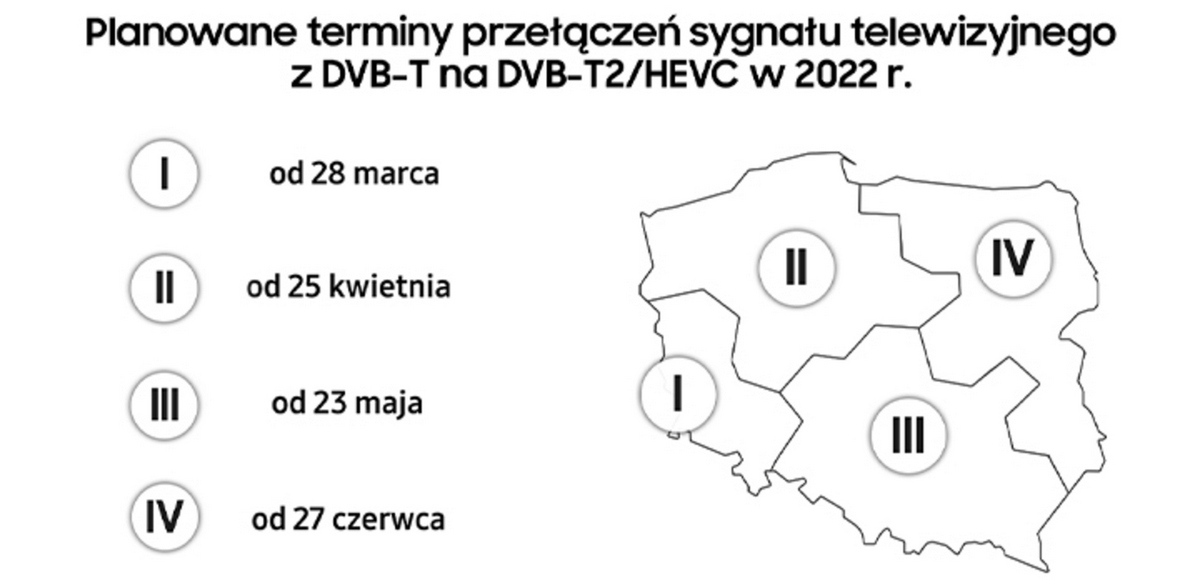 The new standard for digital terrestrial television – since when is it effective?
The transition to the new terrestrial TV standard will be in stages, so some people will have more time to prepare, while others will have less time. From when will DVB-T2 be implemented in individual regions? The timeline for the transition to DVB-T2 / HEVC is as follows:
– from March 28, 2022: Sudetes and Lower Silesia, Lubuskie voivodship
– from 25/04/2022: Pomeranian belt from Szczecin to Tri-City, much of Greater Poland, Kojawi, western part of Mazovia
– from May 23 2022: Southern part of Greater Poland, ód District, Kielce District, Subcarpathia, Lesser Poland, Upper Silesia, Opole District.
– from 06/27/2022: Mazovia, Eastern Poland (from Suwałki District, via Podlasie, to Lublin and Zamość District), around Vistula Lagoon
You see, we still have a few months until the revolution, but it is better not to wait and think about changing equipment as soon as possible. And you don't have to worry about this. We have already switched from analog TV to digital TV and it has proven to be easy. This time, you do not need to replace the antenna. The service we currently have is sufficient and the satellite and cable customers will continue to use their services and they will not have to change anything.
1https://www.gov.pl/web/dvbt2/zmiana-standardu-naziemnej-telewizji-cyfrowej-w-polsce
Article created in collaboration with Samsung
Image source: Samsung
Text source: Samsung