Loft style is still in fashion
The industrial-style interiors in a unique atmosphere are undeniable. Its simple design, modern style and timeless elegance that is resistant to changing trends make us choose this type of arrangement more and more. The lofts are captivating with the open spaces, the lack of unnecessary details and decorations, and above all – the austerity that gives them a unique and attractive character.
The arrangement of the dining room in the loft style. Photo by Kreisel
The history of the style, which is currently one of the most important trends in architecture, dates back to the sixties, when representatives of artistic bohemianism began to settle en masse in the economic crisis of the United States, in abandoned factories and large warehouses.
Over time, the loft has become synonymous with economic arrangements and low rent, which is why it owes its increasing popularity, the peak of which we can see today. So what can not be missing in a loft-style apartment?
Highlight the industrial style of your apartment
Certainly, such an arrangement cannot do without raw materials and cladding. Patterns made of oversized tiles, natural bricks or architectural concrete look great on the walls and floor.
Lofts use colors that visually enlarge the space, such as natural white and shades of gray. Daylight, which should enter the rooms as much as possible, plays an important role here. You can also emphasize the post-industrial character of the interior by placing chrome accessories, glass furniture or antique lamps.
Do you want to arrange an apartment in a loft style? Below you will find 3 tried-and-true ideas for industrial floors and wall finishes in your home!
Architectural concrete – not just on walls
Our first proposal is precast concrete for walls or floors, which would be ideal for lofts due to its rough nature. As a manufacturer of architectural concrete, we offer ready-made plastic agents with high performance and strength, perfectly imitating natural cement slabs. A wide range of shades combined with easy application to walls or floors make this type of decoration ideal for any post-industrial arrangement.
gray large size tiles
An alternative to natural concrete on the wall or footing is the installation of oversized tiles, which expand the space with its size and give it a raw, industrial feel. A wide range of this type of gres tiles will allow you to find a style that perfectly matches your preferences and create a unique interior.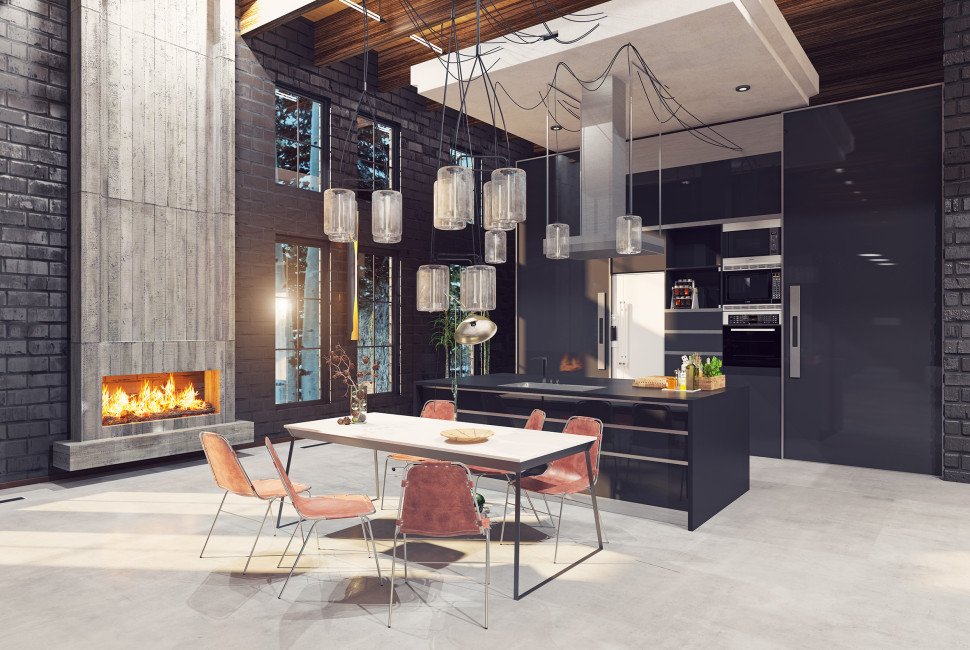 Arrangement of a living room with a kitchen in a loft-style apartment. Photo by Kreisel
It is also important to use a good primer and choose the right adhesive mortar – deformable gel glue will provide proper adhesion while maintaining high elasticity.
Brick on the wall? why not!
Our third proposal for a loft-style apartment is natural brick, which always fits perfectly into industrial interiors. You can also create this type of decoration using wall tiles that imitate old bricks. Arrangement of bricks will work just like the whole room on one wall – there are a lot of possibilities.
Change your apartment with Kreisel products
You already know what the lottery style has and what you need to arrange an apartment in it. It's time to go shopping and complete the necessary building materials with which you will create a post-industrial arrangement for your home.
You can find all necessary products, such as architectural concrete, primers and adhesives for large format tiles, in the Kreisel online store. Check out our offer, order the best building materials directly from the manufacturer and get ready to renew!
Source and photos: Kreisel